Dentist Career Development
At Synergy Dental, we understand the importance of investing in your career development. As a practising dentist, our CEO – Dr Zuber Bagasi, has mentored, trained and supported the development of many associate dentists. His philosophy of lifelong learning has allowed Synergy Dental to offer structured training programmes for dentists and Dental care professionals. As such, we have invested in developing training pathways, work alongside industry leaders as well as a pathway into practice ownership. Our aim is to ensure that no 1 dentist is left isolated and unsupported in any clinic environment. We want to drive your passion for career development and make you an industry leader. Everyone has a dream, and we will turbocharge you to realise that dream sooner.
SynTrain
To support your career development, we have built an award-winning digital training platform which offers you:
• Certification Course in Dental Implantology
• Certification Course in Restorative Dentistry.
With a combination of LIVE Surgeries and treatment, lectures and mentoring, we are able to offer each one of our associates a structured training pathway. SynTrain has been awarded the 'Best Digital Training Platform' by The International Digital Dental Academy (IDDA).
All our training courses are free of charge for all our staff. For more information, please click here: SynTrain Award Winning Dental Learning Platform
Small-Group Teaching
We hold small group teaching sessions each month on a range of dental topics. These include:
• Direct Composite Bonding
• Endodontics
• Crown Preparation Techniques
• Smile Design
• Minor Oral Surgery
• Implant Dentistry
• Full Arch Implant Restorative
• Prosthetics
• Periodontal Treatments
• Ethics in Dentistry
• Any many more…
The study circles are also a great opportunity to share knowledge, discuss clinical cases or any professional matters. It is also a very useful opportunity to meet other like-minded associates.
External Training Campus
The estate solution in Hulme consisted of:
•10 chairs for Postgraduate Education
•3 surgeries
•Seminar room facilities
•Phantom Head room facilities
•AV to encourage teaching (white boards, projectors etc)
•12 chair cubicle area, with an ergonomic corridor at the head of each chair allowing the supervisors to provide over the shoulder advice. The setup used glass to allow the room to feel more open and modern.
•A Phantom Head room with AV to allow teaching for 24 delegates Seminar room facilities allowing teaching and learning in a comfortable environment
1 to 1 Mentoring
We have strong emphasis on clinical mentoring. As such, we have appointed a range of mentors to support you through your clinical journey. Our mentoring programme is free of charge for all our associates.
The GDC standards guidance reflect the importance of clinical mentorship which includes both direct and indirect mentoring. Some of our mentorship programmes are listed below:
It is a requirement by the FGDP Training standards that all dentists must complete a structured training programme for dental implants followed by a period of mentorship before they are signed off to independently place dental implants.
If you are thinking of undertaking dental implant training, we will appoint you an experienced Implant Mentor to support you through your journey. Our Mentorship programme consists of:
1. 20 Cases with direct supervision. Patients are provided by Synergy Dental.
2. A structured programme which supports you through investigation, diagnosis and treatment planning;
3. Report writing, consent and record keeping;
4. Hands on mentorship taking you through the SAC classification.
5. Support with experienced implant nurses.
6. Indirect supervision during and after the direct mentorship has completed.
7. Opportunity to place at least 20 implants during the mentorship programme.
Our Full Implant Mentoring Programme is free of charge for all our associates. We have trained many associates over the years through our training programme who are now competently undertaking complex dental implant treatments independently.
Restoring Dental Implants.
Even though you might nor be qualified to undertake dental implant placements, you may want to restore dental implants. Indemnity providers would require you to have undergone some training and mentorship for restoring dental implants.
Our team would provide you with the full training as well as mentorship and support so you are able to confidently plan and restore simple implants to full arch implants.
The current SAAD guidelines require you to be mentored for at least 20 cases before you are independently able to perform dental sedation. We have a pool of Sedation Mentors within our team who will take you through the journey for sedation mentoring.
We provide dental sedation for both NHS and Private patients as we hold a sedation contract with the NHS. Therefore, we have the ability to provide you with patients to complete your sedation mentoring.
Our full sedation mentoring programme is free of charge
This can range from direct composite veneers to indirect veneers, crowns and bridgework. We have a pool of experienced restorative dentists within our team and based at each one of our clinics to help support you with simple and complex restorative cases.
Our mentorship includes preparation techniques on extracted teeth; treatment planning; support with facebow and semi-adjustable articulators; occlusion and case based discussions.
Cases can also be shared with the wider team through our internal communication channel and feedback/ support offered instantly
We have 2 Endodontists that work within our team. As part of our mentorship programme, we are able to offer you support through our endodontists both with direct supervision or indirect supervision.
If you are thinking about developing a career within endodontics, to have the availability of our endodontists would be invaluable. They will support you through the structured learning courses that you have chosen as well with complex cases and case presentations. This can include:
1. Simple Endodontics
2. Re-RCT cases
3. Support with rotary NiTi (Protaper)
4. Rubber dam and isolation techniques
5. Obturation techniques
As a current provider of NHS Minor Oral Surgery, we support the development of clinicians who require extra support with minor oral surgery procedures. Our Oral Surgery mentors are very experienced and will support you with both direct observations or hands on clinical experience. This can range from:
1. Flap design.
2. Bone removal.
3. Impacted wisdom teeth extractions.
4. Suturing techniques.
5. Apicectomies.
6. Soft tissue surgeries.
Some associates would naturally want to take the next steps into practice ownership. Our CEO, having been through the whole journey is passionate about supporting like-minded associates into practice ownership. Many of our associates have been mentored already and are now operating very successful dental practices. Our mentoring programme consists of:
1. Locating the right practice
2. Funding arrangements – contact with lenders to help you obtain better rates.
3. Legal processes – support with the jargon and what to look out for!
4. Regulatory processes – Support with the CQC procedures so you don't need to pay your legal team extortionate expenses.
5. How to overcome recruitment challenges.
6. Signposting to consumable and equipment suppliers allowing you to save thousands of pounds.
7. Support with IT systems.
8. Developing a practice growth strategy.
9. Marketing and PR. How to ensure your practice can meet its growth plans.
10. Ongoing support.
If you would like to find out more about practice ownership, please click here for more details: JVP
Training pathways for dentists
General Practice Training Pathways.
Below is a representation of how an average associate would progress through their career at Synergy Dental. The pathway is a guide and not prescriptive. Some associates have progressed through the career pathway earlier whist others have spread the learning over a longer period.
Whatever, the progress rate, it is important that the learning is embedded into your clinical practice with sufficient opportunity to reflect on the learning outcomes. Mentorship and support is a pivotal contributor of your career development.
You will also only undertake dental treatments within your scope of practice. It is also important to note that associates who are already experienced, can bypass some of the steps in the career pathway. This is also the same for associates who do not want to gain experience in a set discipline such as dental implants.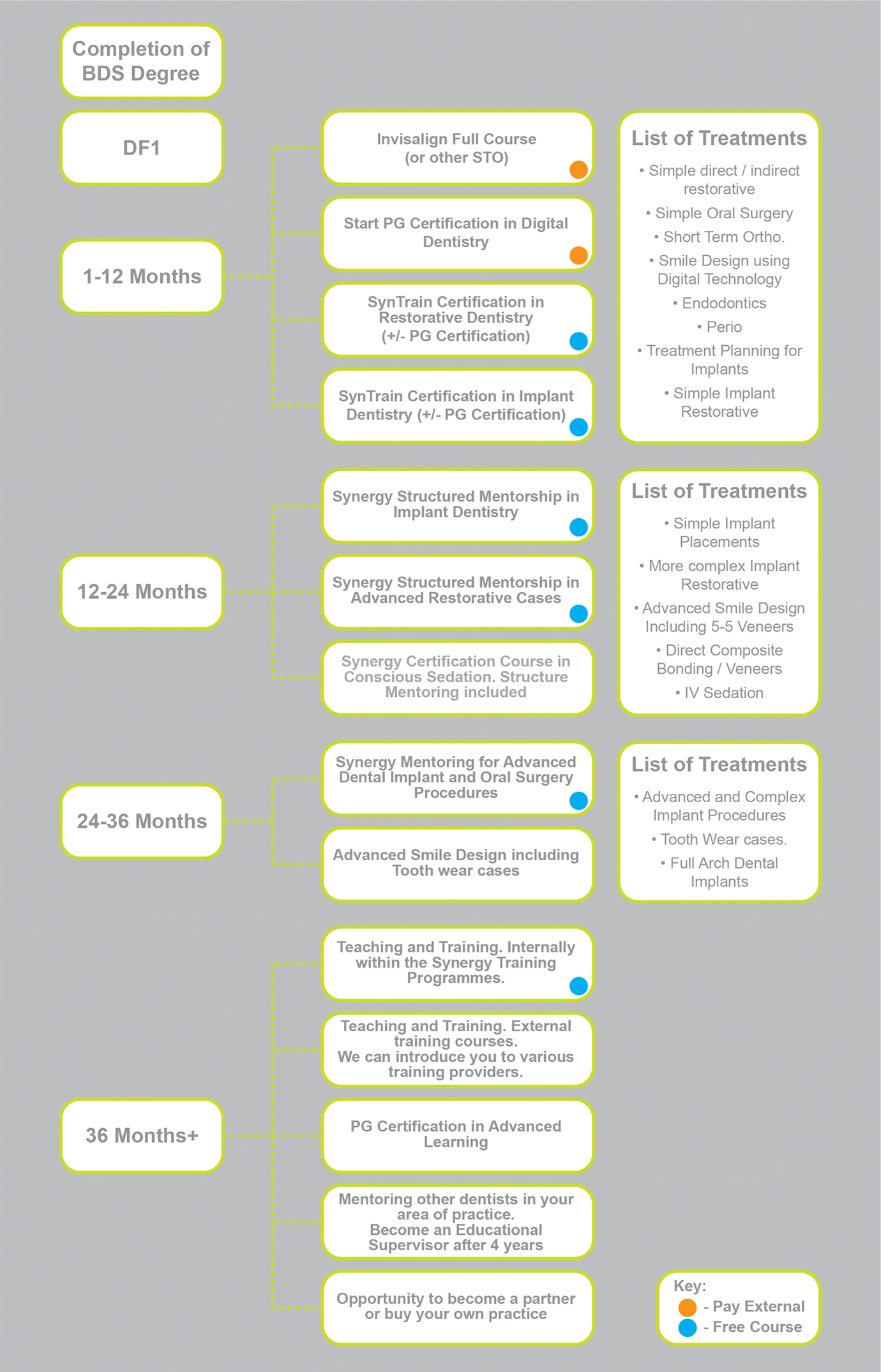 Whatever your carer choices, we want to make sure you are supported through career. Having a robust mix of highly trained and experienced clinicians and nurses, within a structured training delivery system, allows our team to help you through your development.
Academic Training Pathways.
Below is an overview of how a dentist can progress their career through academics within the UK. Some of the Speciality Training and MSc courses and training pathways are part time whilst others are full time.
You need establish which one is right for you. If you decide to take on a part-time course, you may benefit from continuing to work in General Dental Practice. We have had many associates that have enrolled on a speciality pathway and continued to work within our dental practices.
The advantage of this route is that you are able to keep in touch with Primary Dental Care and ensure you have a good earning. Further, you are able to take on more cases within your scope of practice so that you can implement the learning directly and promptly with or without supervision.
Having a pool of mentors means that you can be supported through whichever pathway you decide to take.